The Team
Patrick Johnston is the Owner/Founder of Frontier Wildlife Control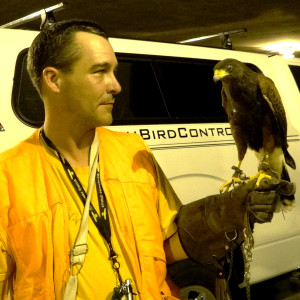 He has trained falcons and hawks for over 8 years and obtained his Master Falconer license. He holds a special purpose abatement license and uses native captive bred hawks and falcons to disperse nuisance birds for safety, health and cleanliness. Patrick also holds an AA Degree from the University of Northern Virginia. In establishing Frontier Wildlife Control, Patrick has been able to provide a nonhazardous method to rid nuisance birds. In turn, he offers an environmentally friendly solution by utilizing trained raptors that disrupt roosts in a series of controlled flights, forcing these pesky birds to find new homes. Patrick has always envisioned an opportunity to use his art of training these majestic birds to become an established business that can give back to the community and help find a common ground for business owners, residents and other properties in need of his and his bird's services. He is now able to bring this business to life and share his wealth of knowledge and expertise to those who need him most.
---
Marti Lambert - VP of Operations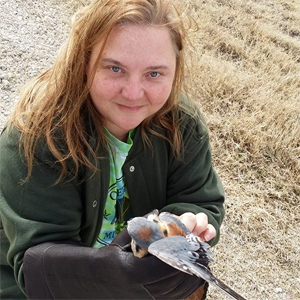 Marti Lambert is essential to the core working of daily grinding tasks. Her role is to provide customer support, and any and all other operational services to the company, providing Patrick with the opportunity to focus on his Falconry. Marti is a one lady production shop who is willing to help with any necessary task needed for the purposes of building and growing Frontier Wildlife Control.
---
Jennifer Hurley - Webmaster/ Social Media
Jennifer Hurley graduated Cum Laude from UTArlington with a Communication Technology and minored in Journalism. She has worked in her field for over 15 years and also has a passion for birds and she keeps 11 chickens at her home today. Not only does she love birds, but all animals and works to help and build a world that is healthier and better for her two boys.
---
Sue - Harris Hawk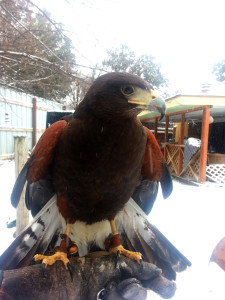 Sue was the first hawk Patrick bought and trained. She is 6 years old and will be producing eggs soon, hopefully this will provide us new Harris Hawks. Sue is the sweetest hawk and truly dedicated to her owner. She preens the rings on your fingers. Bred by Greg Moore DVM, she is truly a magnificent bird.
---
Eli - Harris Hawk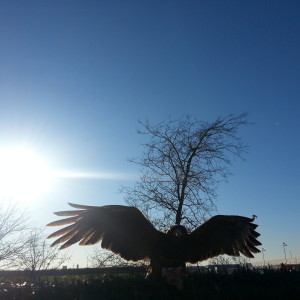 Eli is 5 years old and was bred by Steve Watson. He was hatched to be an abatement bird. This amazing creature has no interest in rabbits, but instead prefers nuisance birds and rats. His temperament is patient and good spirited, but aggressive when it comes to roost busting.
---
Talon - Harris Hawk
Talon is a 1-year-old Harris Hawk, also bred by Steve Watson. In his first season of bird control he has excelled, killing three starlings a night. This is phenomenal in the world of Falconry and is so obedient he kills his prey and brings his kill directly to the Patrick.
---
Captain - Harris Hawk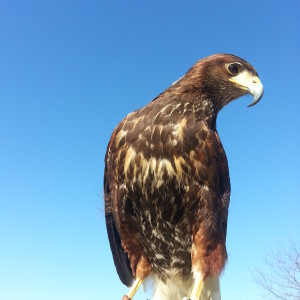 Captain is also a 1-year-old Harris Hawk bred by Steve Watson. Like Talon, Captain will also bring his kill to Patrick. His obedience to his owner and skill at busting roosts is unparalleled.
---
Comet - Grey-Peregrine Falcon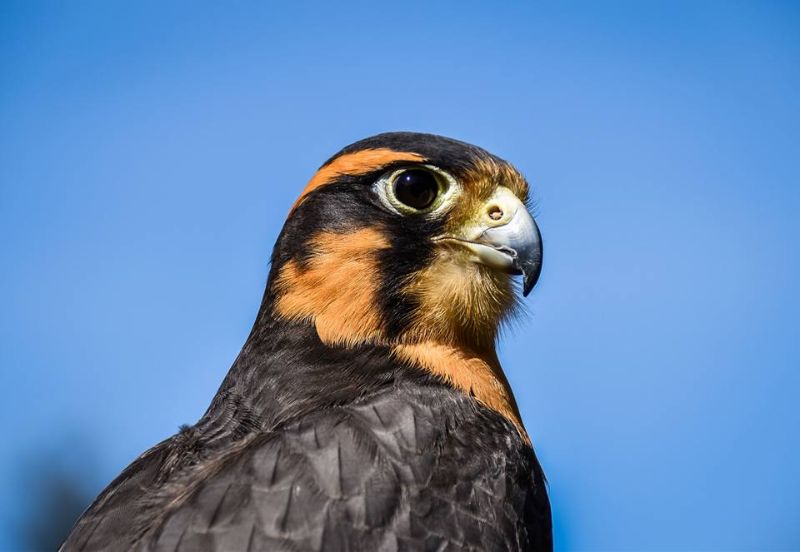 This beautiful Peregrine Falcon joined our family this Summer. Comet specialize in Landfills, Vineyards and other large properties.
---
Cholla - Aplomado Falcon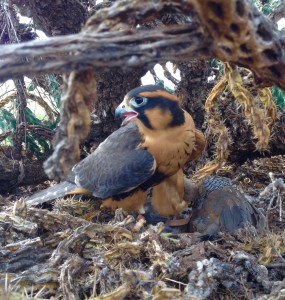 Cholla is the newest addition to our beautiful family. Her beautiful markings are just a few of the wonderful features this beautiful girl shares. She hunts by instinct and her prey is nuisance birds. Her specialty is breaking up nests. We are excited to welcome her to our team!